FKB-INLINE
Centrifugal Grease-Rated Inline Fan
Air Volume: 1 - 21,000
Maximum SP: 7" wg. @ standard air density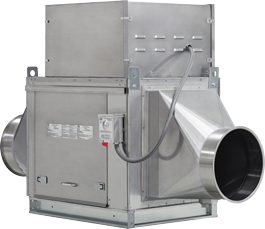 ADDITIONAL INFORMATION
DRAWINGS
FEATURES & BENEFITS
Heavy duty construction
Non-overloading backward inclined wheels
Fully adjustable motor mounting base
Quick release latches allow for easy access to motor compartment
Variable pitch motor pulley allows for field adjustment and system balancing
High efficiency combined with low tip speeds results in quiet operation
Standard emergency disconnect switch
Hinged door design with Stainless Steel latches with lift off hinges
OPTIONS
Indoor Hanging Cradle
Opposite Side Controls
Side Discharge Outdoor Screen
Inlet and Outlet Transition for Factory-Built Round Ductwork
ADDITIONAL IMAGES
CERTIFICATIONS
Floaire certifies that Models FKB10-INLINE through FKB25-INLINE shown herein are licensed to bear the AMCA seal. The ratings shown are based on tests and procedures performed in accordance with AMCA Publication 211 and Publication 311, and comply with the requirements of the AMCA Certified Rating Program.
Models FKB10-INLINE through FKB25-INLINE have been certified by ITS. This certification mark indicates that the product has been tested to and has met the minimum requirements of a widely recognized (consensus) U.S. products safety standard, that the manufacturing site has been audited, and that the applicant has agreed to a program of periodic factory follow-up inspections to verify continued performance.
Models FKB10-INLINE through FKB25-INLINE are ETL Listed under file numbers 103336443COL-001 and 102628244PRT-001 and comply with UL705 (electrical), UL762, and ULC-S645 Standards and CSA Std C22.2, No 113.
Catalog #113F
June 2020