AMDW Series
Double Wall Grease Duct
Double Wall Grease duct is ideal for use in kitchen ventilation applications where reduced clearance or zero-inch clearance to combustibles is needed. Grease duct is ETL listed to mastandard UL-1978 and UL Standard 2221 and rated for continuous operation at 500° F and intermittent operation at 2000°F. Inner duct diameters range from 5" to 36", with multiple lengths and accessories available.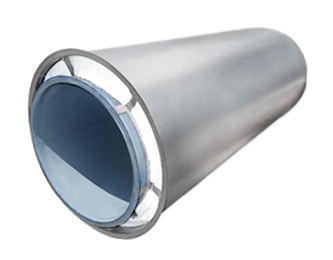 Additional Information
Certifications
The Double Wall Ductwork Series has been certified by ITS. This certification mark indicates that the product has been tested to and has met the minimum requirements of a widely recognized (consensus) U.S. Product safety standard, that the manufacturing site has been audited, and that the applicant has agreed to a program of periodic factory follow-up inspections to verify continued performance.
Models AMDW-2R and AMDW-3R are ETL listed under file number 1000082319SAT-006 EEV and comply with UL1978, UL2221, CAN/ULC-S115, CAN/ULC-S662, and ASTM E814 Standards.
Model AMDW-3Z is ETL Listed under file number 1000082319SAT-006 EEV and complies with UL1978, UL2221 and CAN/ULC-S144 Standards.

Features & Benefits
ETL Listed to UL Standard 1978 and UL Standard 2221- Grease Duct Enclosure Assemblies
Ideal for use in kitchen ventilation applications where reduced clearance or zero-inch clearance to combustibles is needed
Duct sections are constructed of an inner wall and outer wall with insulation in between - inner duct is Single Wall (AMDW Series) and outer shell is Stainless steel
Inner duct diameters range from 5" to 36"
Three models are available to meet clearance requirement needs - Model AMDW-2R, Model AMDW-3R and Model AMDW-3Z
Rated for continuous operation at 500 degrees F and intermittent operation at 2000 degrees F
Clearances
| DUCT MODEL | INNER DIAMETER (ID) | OUTSIDE DIAMETER | CLEARANCE TO COMBUSTIBLES | CLEARANCE TO NON-COMBUSTIBLES |
| --- | --- | --- | --- | --- |
| AMDW-2R | 5" - 16" | ID+4 | 3/4" | 0" |
| AMDW-2R | 18" | ID+4 | 1" | 0" |
| AMDW-3R | 5" - 24" | ID+6 | 3/4" | 0" |
| AMDW-3Z | 5" - 36" | ID+6 | 0" | 0" |
Model 3Z is listed in accordance with Condition A and Condition B of UL Standard 2221 - Condition A represents all installation conditions except for installation within non-ventilated combustible enclosure. Condition B represents installation within a non-ventilated combustible structure.
Models 2R and 3R are ETL listed under file number 1000082319SAT-006 EEV and comply with UL1978, UL2221, CAN/ULC-S115, CAN/ULC-S662, and ASTM E814 Standards.
Duct systems are allowed to penetrate a fire resistance rated floor when using floor support assembly and fire stop kit