TANK Fire Suppression
Electronic Detection
Wet Chemical Suppression
TANK Fire Suppression uses electronic fire detection and activation paired with traditional wet chemical fire suppression agent to quickly and accurately suppress fires.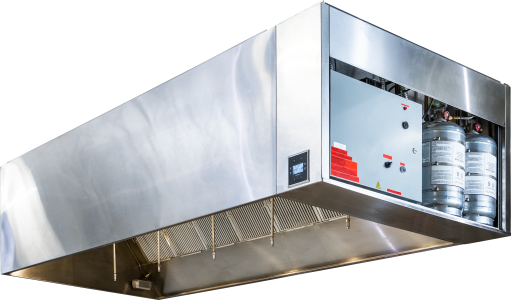 Additional Information
Certifications
The TANK Fire Suppression System is a UL and ETL Listed system for wet chemical extinguishing system units. The TANK system is UL listed under file number EX27953 to meet requirements of UL 300; ULC Listed to meet requirements of ULC/ORD-C1254.6 and UL/ULC 1254; CE Marked; Meets requirements of NFPA 96 and NFPA 17A
The control package for TANK Fire Suppression is ETL listed under report number 101196419NYM-001 to the UL Standard 864 and CAN/ULC-S527-11; FDNY Certificate of Approval #5870
This product may be covered by one or more of the following patent number(s): (United States) 8378834, or other U.S. and foreign patents pending. Electronic Fire Detection
Firestat - An electronic, solid state firestat reliably detects fire in the system. If TANK detects a temperature above 360°F or a rapid rise in temperature, the firestat contacts will close, energizing the fire system.
Electric System with Battery Backup - In the event of a power outage, TANK uses a battery backup to disrupt all appliances through electric gas valves and shunt trip breakers. TANK's battery backup also powers fire monitoring, detection, and suppression.
Real-Time Monitoring
Microprocessor Based Control - Instant notification of problems with the system
TANK Control Board - TANK's control board provides all of the necessary monitoring, timing, and supervision functions required for reliable operation. If a fault is detected, an alarm will periodically sound and the "Fire System Activated" light will flash a fault code. The unit's display screen will show the specific fault detected.
Independent Supervised Loops - The supervised loops incorporate both redundancy and fault detection. The firestat and manual activation device are connected to the loops.
24/7 Monitoring - System pressure is monitored at all times to ensure suppression tanks are full of agent and ready to discharge.
Wet Chemical Suppression
Overlapping Protection - Overlapping nozzles installed no greater than 24 inches apart and 40–45 inches above the cooking surface ensure an even and overlapping spray throughout the hazard zone.
Simplified Nozzle Design - Each nozzle has a metal foil cap to keep the nozzle tip free of grease build up, allowing for quick discharge and reliable fire protection.